About Dave Long Coach Travel
Dave Long Coach Travel is a fully licenced coach operator based in Skibbereen in West Cork. Operating for more than half a century, we are an integral component of Cork's transport infrastructure. Central to our mission statement is the safety of all our customers, whom we will always put first. We have an array of modern buses and coaches for hire for journeys across the entire island of Ireland. Our luxury fleet includes 55-seater coaches, double-decker coaches and a selection of smaller buses and minibuses. Most importantly, each vehicle has been carefully chosen to cater for the many diverse transport needs of our customers.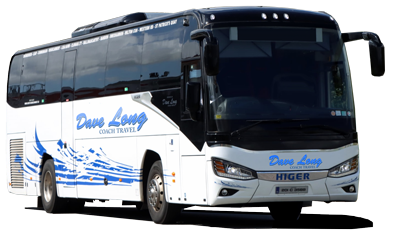 We have delivered thousands of passengers in comfort to major events such as All-Ireland matches, the ploughing championships and concerts, as well as providing transport for more intimate occasions, like weddings, stag parties and hen parties. The number one choice for corporate coach hire, we provide transportation to business conferences, meetings and work parties. Furthermore, our fleet is regularly engaged in providing transportation for sports outings (golf tours, hillwalking, sightseeing), school tours, college field trips and a multitude of other excursions. Group transport to and from airports, ferries and hotels is also accommodated.
Dave Long Coach Travel is fully dedicated to delivering a first-class customer experience through the expertise of our staff, while consistently maintaining competitive rates. Speak to our friendly staff today to hire a bus in West Cork by clicking here to contact us  
A Long History in Transport
The Long family of West Cork is synonymous with transport innovation. Founded in 1969 in Skibbereen, Dave Long Coach Travel has over 50 years' experience in passenger transport. This company was the brainchild of the late Dave Long and his wife Patricia Long née Donelan. Likewise, the Donelans were steeped in the transport industry for generations. Ernest Donelan, Patricia's father, ran a hackney and funeral hearse business. When starting off, Ernest used horse-drawn carriages but gradually made the switch to automobiles. He was the first person in the passenger industry in Skibbereen to make this pioneering shift from horse-power to motor-power, thereafter revolutionising transport in this area. In short, Patricia inherited her father's drive to advance and elevate transportation in West Cork.
To make Dave Long Coach Travel a success, Dave and Patricia knew from the outset that this would have to be a family-run venture, where people intimate with the business and local area could provide friendly advice and help to all customers. Within a few short years of its establishment, Dave Long Coach Travel was thriving and had become a well-known and trusted brand throughout West Cork. While the business has expanded and grown considerably through the decades, a personal touch has remained at the heart of our ethos. Meanwhile our business continues to make major advances in transportation for West Cork and the wider region.
The People Behind the Brand
Damien Long – Managing Director
In 2000, the management of the business passed to Damien Long, son of founders Dave and Patricia Long. Damien is also the CEO of two hugely successful and highly competitive public transport companies: TravelMaster and West Cork Connect.
Like his grandfather before him, Damien is focused on continually modernizing his businesses, having made the switch from phone to online booking, introducing live GPS tracking on his buses, virtual ticketing and many other technology-based solutions.
Each vehicle in our fleet is inspected regularly by our team of highly qualified mechanics at our purpose-built garage. Their frequent mechanical maintenance ensures that only premium-condition coaches are available for hire. Furthermore, most of our vehicles are fitted with technology that enables us to monitor driving patterns and fuel management, as well as ABS braking systems, GPS tracking and seat belts for every passenger. In this way, you can rest assured that the safety and comfort of our passengers is being constantly surveyed and improved. With the customers' ever-changing needs in mind, we are constantly upgrading our fleet, purchasing new and better vehicles
Dave Long Coach Travel only hires professional drivers with excellent driving records and with many years of experience on the road. In addition, they are fully trained, certified and safety compliant. It has always been our aim to create a pleasant work environment for all our staff and so the majority of our drivers have been part of the team for years. That is to say, they are very much central to the success of Dave Long Coach Travel and we appreciate their loyalty.  
While our focus on safety and quality will remain a top priority into the future, we aim to improve accessibility for all. In short, we acknowledge that each and every passenger is unique and has different requirements and expectations. It is our goal to connect all individuals, no matter their needs and abilities, with the places that matter most to them.
Dave Long Coach Travel will continue to explore new ways to make our transport service more environmentally friendly and sustainable, while always delivering value for money to our customers. In the same vein, our ambition is to bring the very first electric coach to West Cork. Nonetheless, our approach will remain as ever passenger-centred.
Why choose Dave Long Coach Hire
✓ Experienced: specialists in coach hire with over 50 years of knowledge;
✓ Affordable: we offer the very best rates, while maintaining the highest quality;
✓ Reliable: a long-established, professional and trusted brand;
✓ Local: our family-run West Cork business offers a personal touch;
✓ Flexible: we're customer-centred, you tell us where and when, and we'll be there;
✓ Compliant: Fully licensed, insured and safety compliant.