Coach & Bus Hire West Cork
Looking For Bus Hire West Cork? Dave Long Coach Travel Offers a Wide Range of Coaches and Buses for Hire throughout West Cork.
Hiring a bus in West Cork?
Family-owned Bus Hire Business Since 1969
Dave Long Coach Travel has been involved in the bus hire industry for over 50 years in West Cork. Offering coaches and buses of all sizes, we have transported thousands of passengers all over Ireland for decades. As a result, we have earned a reputation as a professional, friendly travel operator.
We have a varied selection of luxury coaches ranging from minibuses to 55-seaters and even double-decker coaches. Moreover, wheelchair adaptable vehicles are available. Whatever your needs, our long-established, family-run company and extensive fleet of buses can facilitate them.
Need A Quick Price Quote?
No. 1 for bus hire in West Cork
If you wish to travel in comfort around West Cork or to anywhere else in Ireland, we're always available. No matter the occasion, we pride ourselves on delivering a quality bus-hire service to all our clients, from clubs and schools to sporting organisations and any other group. So sit back, relax and enjoy a seamless bus hire experience with Dave Long Coach Travel.
Our helpful staff welcomes all enquiries. Furthermore, we can create a tailor-made transport plan to meet your needs. So if you're hoping to hire a bus in West Cork, click here to contact us today for an instant quote or use the contact form provided on this page.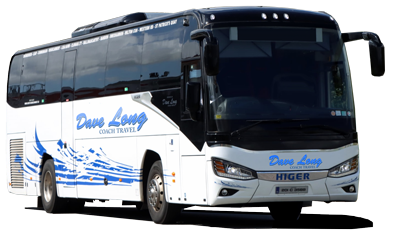 All our vehicles are modern, stylish and most importantly safe. Consequently, you can relax on the journey knowing that your safety and comfort are our top priorities. In addition, our friendly drivers will go above and beyond to cater for your specific requirements.
We are available for trips to scenic destinations and towns alike throughout West Cork and any other destination of your choice across the island of Ireland. Remember for bus hire West Cork, think Dave Long Coach Travel!
Don't forget: you can get the bus from West Cork to Cork City with our daily bus service West Cork Connect.
We can help you with hiring a bus in West Cork
Firstly, Dave Long Coach Travel helps people throughout West Cork make hundreds of journeys across Ireland annually.  Secondly, we pride ourselves on delivering a cost-effective service. Above all, our reasonable rates combined with a top-quality transport service, will not be beaten anywhere in Cork. Thirdly, we recognise the diversity of all our individual clients and the importance of meeting their diverse requirements. Therefore, should you require any assistance be sure to inform our team. We promise that our highly trained drivers always treat our customers with the utmost care and consideration. 
Who is Dave Long Coach Travel?
In 1969 Dave Long Coach Travel was founded by the late Dave Long. From the outset, he knew that for his business to thrive it would have to be a family-run venture. Over the years, the business evolved and grew to become a household name throughout West Cork, as well as an integral component of Cork's transport infrastructure. However, our focus on safety and quality has remained steadfast. Furthermore, our goal has not changed: we aim to improve accessibility for all. In conclusion, as we move into the future Dave Long Coach Travel will continue to explore innovative ways to make our transport service more environmentally friendly, placing an emphasis on sustainability, while maintaining a client-centred approach.
West Cork Cabs - Our Skibbereen Taxi Company!
Transportation for Sports Events, Weddings, School Tours and Much More
We cater for all sporting events, with West Cork's leading GAA, camogie, rugby and soccer teams, as well as their supporters, frequently hiring our luxury coaches for transport to and from fixtures. In addition, our comfy buses are ideal for golfing tours and hillwalking groups.
If you're planning your "Big Day", why not ensure that your guests travel in style to the church, hotel or wedding venue? Don't worry, we'll get them to the church on time! Leave it all to us to ensure that your day goes off without a hitch, while you concentrate on getting hitched! As well as providing transportation to weddings, we cater for other special occasions, for instance, hen parties and stag nights out.
School tours, college field trips and university outings are some of the highlights of every student's academic calendar, and we are delighted to offer transport to all of these events. While safety is always the principal concern of our highly experienced drivers, this is especially the case when transporting children, teenagers and pupils of all ages. To find out more, or if you would like to book a coach or minibus for a sporting event, special occasion or school/college trip, call our team today.
Don't forget: you can also travel from West Cork to Cork City with our daily bus service West Cork Connect.